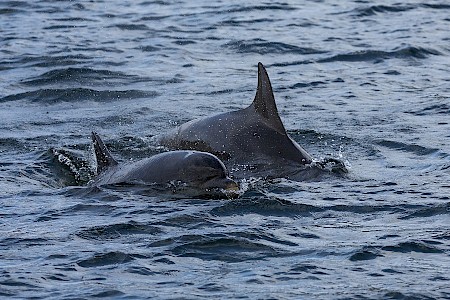 Our first cruise of the season exploring the Islands of Mull, Coll and Iona was amazing with almost perfect weather and a fantastic array of rare species seen.  Having a dedicated Wildlife Guide on board our cruises is what makes our voyages a true wildlife experience, plus all our Crew members are nature and wildlife enthusiasts.  The Crew members were skipper Chris Ireland, Chef Ross Harris, Wildlife Guide Nigel Spencer and bosun Mark Mullen; their combined expertise provided our guests with an unforgettable wildlife experience as well as the best of Scottish hospitality.  The amazing wildlife photos are Nigel's
Nigel's Cruise Report
Saturday: The cruising season got underway on the 29th April, with Elizabeth G leaving Oban on our "Mull, Iona, and Coll Island Explorer" 6-night cruise.  The weather was generally warm, with a little wind leaving us with a glorious day.  One of our first sighting was of several black guillemots with their distinctive white diamond wing pattern as they flew across the bay as the guests and crew headed north west into the Sound of Mull.  The gentle breeze remained with us as we continued along the Sound before turning right past Aullston Point and into the shelter of Loch na Drama Buidhe for our first overnight anchorage.  Chef Ross served up a fantastic Scottish themed evening meal for our first night together. 
Sunday:  We woke to a lovely calm morning with good views of a pair of great northern divers in their distinctive summer plumage, these birds are not common and it was a good start for what was to result in a trip filled with great wildlife. After breakfast we passed by the small island of Oronsay, crossed the Sound of Mull and into Tobermory which never lets us down for good views of the famous coloured buildings along the harbour front.  I accompanied guests on a leisurely walk ashore in Aros Park, which gave us great views across Tobermory and the northern end of the Sound of Mull.  Upon our return, we spent a further hour browsing the shops and seafront before re-boarding Elizabeth G for a late lunch and continuing our journey around the north point of Mull and on towards Croig bay where we anchored for the night – a lovely anchorage with a great sunsets.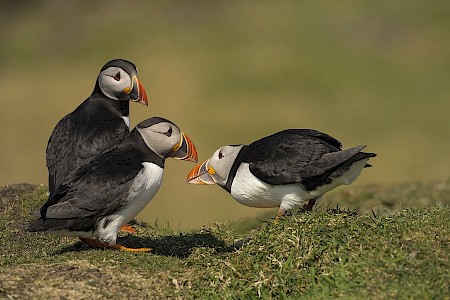 Monday: We continued along the north coast of Mull, with good views of the Treshnish isles and Bac Mor (which is more commonly known as "Dutchmans Cap" because of its appearance).  Visibility was once again good and in the distance we could see Rum, Eigg, Coll, and several distant mountains on the mainland.  We anchored in the inlet between the islands of Gometra and Ulva, ready to go ashore after lunch aboard.  After a few minutes, a small number of dolphins were spotted and everyone gathered on deck to watch.  Luck was on our side as the group of circa 12 dolphins continued to swim closer and we were kept entertained with great views for about 20 minutes with several coming within feet of Elizabeth G.
After lunch we went ashore on Gometra and walked to where we reached the narrow bridge crossing the small causeway that led us onto the island of Ulva where we continued our walk.  The weather continued to be warm with everyone now in shirtsleeves fully enjoying a lovely afternoon.  On the return journey a group of three otters was spotted fishing and playing in the sea, near a very small offshore island.  We sat and watched them for over 30 minutes before returning back across onto Gometra – what a great end to a great day!
Tuesday: The warm weather was continuing, Chris, our Skipper took us back towards the Treshnish Isles, and we landed on Lunga for a great morning on the famous seabird colony.  After only a few minutes ashore the group was sitting together in the sunshine watching both Puffins and Razorbills.  Indeed, no matter how many times you visit a puffin colony, it is always great fun to see them and take more pictures. There was also plenty of other birds to enjoy and it wasn't long before everyone had good views of many more species including fulmars, shag, and guillemots.  After several hours ashore we returned to the boat, and after lunch we headed across to Coll which is another favourite island.  We went ashore at Arinagour where we enjoyed a leisurely couple of hours exploring. Elizabeth G then cruised to the very scenic Calgary Bay on Mull with its long white sands where we anchored for the night –  a beautiful backdrop to enjoy another evening meal prepared by Ross.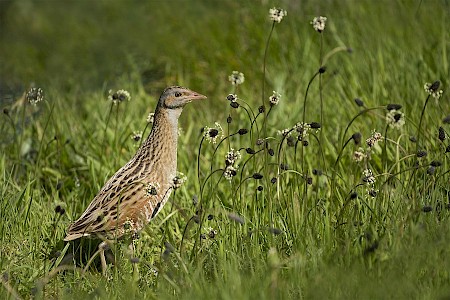 Wednesday: A brief view of Harbour Porpoise was the reward for those on deck as we headed towards Staffa where we hoped to land, but unfortunately the swell was a little too much, so we decided to view this tiny island from the deck of Elizabeth G.  We passed alongside the famous Fingal's Cave where we enjoyed superb views of the tall basalt columns that reach almost 100 metres in height before we changed direction and headed south to the historic island of Iona.   Iona has a long history dating back to St Columba who arrived with his twelve companions around 650AD where they founded the monastery and brought Christianity to Britain.  After landing we headed towards the Nunnery, Abbey, and everyone visited some of the many historic sites where we all enjoyed several hours.
One of the most prized birds in Britain for wildlife enthusiasts is the corncrake which unfortunately has suffered an alarming rate of decline for many years, and is now found in very small numbers on just a handful of islands which includes Uist, Coll, and Iona.  Luck was on our side as I managed to locate at least three of these very shy birds, which then resulted in most of the group also having excellent views, indeed the views were so good that several of the party managed to get photos of this lovely rare bird.  From a wildlife perspective the week was building very nicely as we were certainly getting a good mixture of fantastic sightings. 
We rejoined Elizabeth G and crossed to Loch Na Laithaich where once again Ross cooked everyone another fabulous meal before we were treated to a glorious sunset at the end of another great day.
Thursday: After breakfast we cruised in an easterly direction along the southern coast before stopping at Lochbuie for a trip ashore which was the longest of the trip. The group set off, shortly passing May Castle, where several woodland species such as dipper were added to the growing list of wildlife seen.  We walked along Loch Uisg past the memorial and after a short distance we reached Loch Spelve where we all stopped for several minutes enjoying the view of a golden eagle as it soared along the rolling eastern ridge of Creach Being.  We continued walking until we reached the small village of Strathcoll where we were met by Skipper Chris who had walked the last mile to meet us.  While we were away, Chris and Mark had purchased some freshly harvested mussels which were expertly cooked by Ross before we relaxed on our last evening aboard the Elizabeth G.
Friday: Unfortunately it was time to head back to Oban after such a great start to the season, both guests and crew had enjoyed a great week.  We cruised along the north western shore and out of Loch Spelve where three eagles were spotted at fairly close range on the headland right at the end of the loch.  We watched them for several minutes before continuing our final journey and continued between the island of Kerrera and the mainland.  After a short while we arrived back in Oban where we berthed alongside Proud Seahorse.
During the week we had covered almost 190 miles and the list of weeks wildlife had grown to over 60 species of mammals and birds which is too long to list here, but included favourite species such as puffins along with many Hebridean specialties including dolphins, porpoise, eagles, and corncrake.  Together they make an impressive start to the season, but unfortunately it was time to say goodbye.  The weather had been very kind with no rain, and increasingly warm days, great views, great food, and great company, the result was a week that will remain in the memory of both the guests and the crew for many years to come.