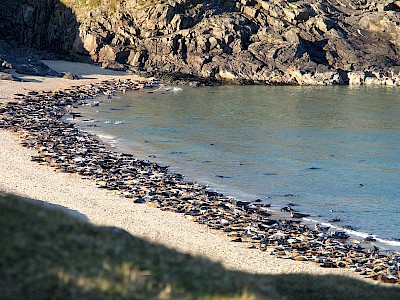 Located 12 miles south of the Island of Barra, Mingulay was settled for thousands of years until the early 20th century and has many potential archaeological sites and evidence of Viking influence in place names. When the MacNeils of Barra owned Mingulay, from the 15th – 19th centuries the small community thrived but then suffered at the hands of absentee landlords. After two thousand years or more of continuous habitation, the island was abandoned by its Gaelic-speaking residents in 1912 and has remained uninhabited since; it is no longer even used for grazing sheep. The island has been owned by the National Trust for Scotland since 2000.
Today, the main attraction of Mingulay is the awe-inspiring scenery and as a breeding ground for guillemot and kittiwake. Our cruise around the western cliffs, which are virtually inaccessible and covered with seabirds is an unforgettable experience. The sea cliffs, towering to 215 metres are among the most dramatic in Britain and have many fascinating rock formations. During the nesting season the granite stacs and high cliffs are festooned with nesting kittiwakes, razorbills and guillemots and there are large colonies of puffins. The islanders used to scale these treacherous cliffs to collect eggs and young seabirds.
Mingulay Bay, with its extensive sandy beach is on the east coast of the island.  This is our anchorage, sheltered from the west and north west winds.  It is ideal for a trip ashore to walk through the extensive remains of the village and explore the sea cliffs.  Mingulay is home to a large population of grey seals and one of the truly most magical experiences of the Hebrides is to view and hear the animals come ashore of the evening, singing to each other, from our anchorage out in the bay.
We visit Mingulay during our one-off exclusive 10-night cruise on September 5th 2015,  "Far-flung Islands: Mingulay to the Shiants"