Scottish Wildlife Cruises
Book your Scottish Cruise now for 2022 and 2023
Our Scottish cruise calendars offer a choice of 12 exclusive cruises, each providing a sensational sea-going combination of luxury, adventure and amazing close encounters with wildlife. 
Check availability and book online
.  Each Scottish cruise itinerary focuses on an iconic area of the west coast of Scotland with evocative far-flung destinations such as St Kilda, Mingulay, the Monachs, the Shiants and the Summer Isles, to the fabulous inner Hebridean islands of Mull and Skye.  Now is the time to book a
private cruise charter
for 2022 and 2023 while there is still availability. Choose your own destination and itinerary and share an unforgettable adventure with your family and friends.

Scottish Wildlife Cruises with amazing close encounters
We are passionate about the wildlife of the west coast of Scotland and of giving our guests amazing wildlife sightings and experiences. This is why there are four crew on board every cruise allowing our sharp-eyed Wildlife Expert to dedicate their time to scanning the seas, land and skies. A surfacing minke whale, bow riding short-beaked dolphins, an otter playing in the seaweed, porpoise, seals and eagles wheeling overhead are seen on almost every cruise as are around 80 bird species. Rarities such as orca, basking sharks and other types of whales and dolphins appear less often but if they are there, our Crews will spot them.  They know the best habitats, can easily identify species and have lots of knowledge at their fingertips about the wildlife seen.
Wildlife Gallery - 100 species photographed on our cruises
For 100 days we posted photographs of individual wildlife and nature species on facebook, taken by our guests and crew while cruising.  This has now provided us with an impressive gallery of individual species!  However, it has also made us aware that we do tend to photograph the rare and iconic species we see while cruising, whereas there many other less obvious but just as fascinating species spotted. Our mission is now to see how many species we can add to the gallery!  View the nature and wildlife gallery here> 
Wildlife Experts and accompanied onshore excursions
Our wildlife cruises are unique amongst Scottish small-ship cruises because of the marine and wildlife expertise on board and onshore.  The Skipper and Wildlife Expert join guests for dinner to chat about the day's events and discuss the possibilities for itineraries and shore trips the following day. The Wildlife Expert always accompanies the guests on shore excursions to guide them on the route, spot wildlife and provide local information on history and the natural environment. Any guest with a preference to explore alone can do so, safety allowing. 
Get a taste of the fabulous food served on board our cruises
The meals served onboard our vessels by our Chefs are legendary. All food is prepared from fresh, local ingredients, creating delicious dishes that get rave reviews from our guests.  A speciality of Hebrides Cruises is hand-dived scallops, often provided by the Skipper on board actually doing the dive! View our Fabulous Food Gallery>
Read our guest reviews
Trip Advisor don't review cruises, so we have our own review system on our website where guests can leave a review in their own words, unedited. We are delighted at the 100% positive reviews we have received on our website.  Read our guest reviews>
Get in
touch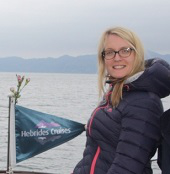 Need more information?
Contact Emma