Some of our guests can have widely varying levels of ability such as mobility, sight, hearing and energy. If any guest has a concern as to whether our cruises are suitable for them, we can provide detailed information in advance of their cruise to help them assess their options.  A mix of older and younger family members is popular, as all levels of fitness within the group can be enjoyed. We regret we cannot accommodate full-time wheelchair users due to the layout of our vessels. Sometimes guests like to ask certain questions if it is their first time cruising with us, or they feel nervous. Our shore manager, Emma, is always available via phone or email to answer any questions they may have.  Emma has even sent guests photos and videos to help inform pre-departure expectations. 
Factors that help our guests' access our vessels with ease include:
Pre-boarding and arrival
Our vessels embark and disembark from Oban Bay pontoons, an easily accessible point central to Oban.  
A pre-boarding briefing is provided to the crew from the Shore Manager on any guest requiring extra assistance.
A safety briefing and detailed discussion is given to guests on arrival by the Skipper, to outline all aspects of the vessel and the cruise.  
Guests are shown individually to their cabin by the crew, highlighting any areas that may affect their ability.
While onboard
Daily evening briefings are given by the Skipper and Guide, deatiling next day itineary and what to expect. 
Handrails are fitted on outer decks, stairwells and in cabins.
Skippers, along with other crew members, are always on hand to make our guests stay as safe, comfortable and enjoyable as possible.
Our Wildlife Guides chat to each guest to find out their interests, onshore expectations etc and find out ways they can help their enjoyment.
Going onshore
Prior to guests going ashore, the Skpper and Guide will give a short safety briefing about the landing site.
At least 2 crew members are always on hand when assisting guests on and off the tender at the vessel and onshore.  
Grab rails are fitted and extra steps aboard our tenders allow for extra assistance.  
Get in
touch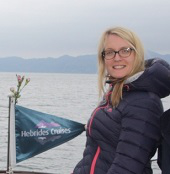 Need more information?
Contact Emma