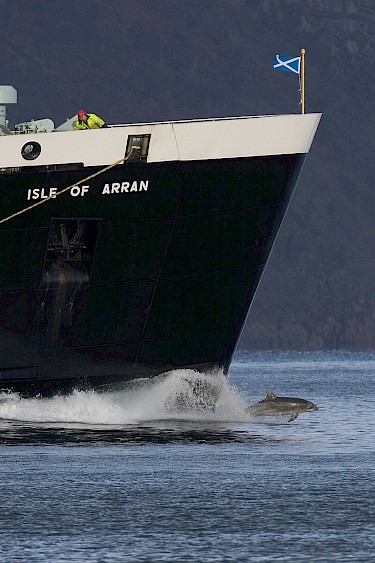 The Hebridean Whale and Dolphin Trust (HWDT) has provided research information on a recent solitary bottlenose dolphin that has appeared off the Island of Mull this week.
The rare sighting of a lone bottlenose dolphin was following a ferry to the Isle of Mull on Tuesday 2 December. Bottlenose dolphins are not unusual in the Hebrides, but they normally occur in small groups, with individuals rarely seen alone.
Wildlife photographer Nic Davies, got images of Clet close to shore from Craignure on the Isle of Mull.
By studying the male dolphin's scarred dorsal fin, HWDT identified the animal as Clet, last seen in September in Galway, Ireland and the first recorded sighting in Scotland.
Clet was named by locals from Cap Sizun, Brittany in France, where he followed fishing boats between 2008 and 2010. He was then seen in Cornwall, Devon and Wales before appearing in West Cork in Ireland, where he spent several weeks interacting with boats. The Irish Whale and Dolphin Group then recorded his movements along Ireland's west coast to Valentia, County Kerry.
A dolphin which showed aggressive behaviour against swimmers in Galway Bay in September 2014 was thought to be Clet but this was not confirmed. Solitary dolphins do not pose a threat to people in boats, but can be aggressive towards swimmers. The biggest danger to solitary dolphins is injury from boats, as the animals appear to seek out vessels to interact with. The deep gash on Clet's dorsal fin may be from coming too close to boat propellers.
Clet may remain in the Sound of Mull area for weeks or even months, as he has done in other areas. HWDT is asking boat owners to be respectful and to give Clet the space he needs, and hopes that the dolphin will continue to enthrall onlookers from the shore and from the ferries, which he has been bow riding in the Sound of Mull.
The bottlenose dolphin is a highly protected species under EU law, and the Hebrides marks the most northerly reaches of their geographical range. Some of the biggest bottlenose dolphins in the world have been recorded in Scotland, where individuals usually grow to 3.5 metres in length.  Over 70 individuals have been catalogued in western Scotland.
The Hebridean Whale and Dolphin Trust
Hebridean Whale and Dolphin Trust is working to secure the future of western Scotland's cetaceans and the Hebrides' globally important marine environment through education, research and engagement with local communities. For details call 01688 302620 or visit https://hwdt.org/.
Hebridean Whale and Dolphin Trust is asking the public to report sightings of whales, dolphins and porpoises – collectively known as cetaceans – and basking sharks at https://hwdt.org/. The charity's extensive Community Sightings Network uses such sightings as a key way of strengthening understanding of the local marine environment and of these spectacular animals.
High quality images of cetaceans and basking sharks can be emailed to the trust at . This helps in photo identification research – a technique that allows individual cetaceans or basking sharks to be identified by their distinctive markings, often shedding new light on population sizes, social dynamics, and areas of important habitat.
Volunteers are also wanted to join the trust's research expeditions on its specialized yacht Silurian next summer, working alongside marine scientists.