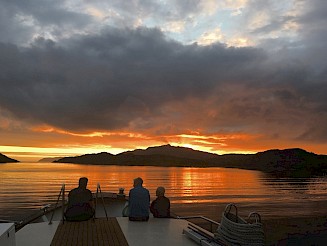 St Kilda and the Outer Hebrides Explorer
10th to 20th July 2017
Cruise report from Wildlife Guide Lynsey Bland
I for one, can say that this trip was a delight from start to finish. To reach St Kilda is always an honour and to enjoy sunshine and a calm and glassy sea in the Hebrides is a real treat. Many laughs were had during the 10 days and the wildlife did not disappoint! We had good views of 6 different species of cetacean, both white-tailed eagle and golden eagles and many other bird species, including thousands of gannets around the sea stacks of St Kilda.
Monday 10th July
Oban to Loch na Droma  Buidhe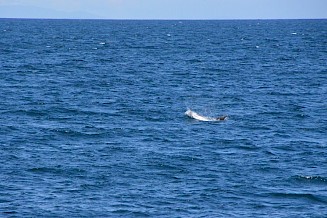 Departing from Oban, we steamed north up the Sound of Mull with our guests all excited about exploring the Outer Hebrides and hopefully St Kilda! We were lucky enough to get good views of our first white-tailed eagle of the cruise within an hour of setting off as it flew overhead towards the Morvern shore. Gannets, Manx shearwater and guillemots were also spotted. As we entered Loch Sunart for our anchorage this evening Chris, our Skipper spotted a handful of harbour porpoises which surprised all by playing around in the wake of the boat! Ross, our fantastic chef treated the guests to a fabulous first dinner, including a true Scottish delight of cranachan for dessert and we were all delighted by the stunning Hebridean sunset.
Tuesday 11th July
Loch na Droma Buidhe to Acairsaid Mhor, Eriskay
We woke to glorious sunshine and left our anchorage early to head across the Minch and out to the outer isles. The visibility was amazing and we all got a good view of the Small Isles and the Cuillin mountain ridge on Skye.  Shortly after passing north of the Cairns of Coll we were treated to a sighting of a minke whale, and a very small one at that. He was soon christened a 'dinky minky' and we watched him surface a handful of times before continuing west. We continued to see lots of seabirds, including storm petrels and great skuas. As we closed in on Eriskay, our anchorage for the evening, I let out an excited squeal as a large splash was spotted to the north. On closer inspection, the culprit was found to be 6 or 7 Risso's dolphins! These robust dolphins are unique in appearance due to their blunt head, no distinctive beak and large number of scratches on their body, causing some individuals to be almost entirely white. I then went ashore with guests to enjoy a warm and sunny walk on Eriskay where we walked along the beautiful sandy beach, then on to The Politician, the pub named after the wreck of the SS Politican which sank en-route to Jamaica with 40,000 cases of whisky on board.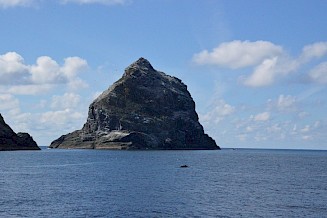 Wednesday 12th July
Eriskay to St Kilda
Another beautiful day dawned as the crew rose early to begin the crossing to St Kilda. The conditions couldn't have been more perfect and Chris even decided to helm from the fly bridge to enjoy the sunshine too!  As the remote and impressive islands that make up the St Kilda archipelago came into view I spotted a handful of dorsal fins glinting in the sun. Although these dolphins remained elusive a positive identification of white beaked dolphins was made. Shortly after this encounter the cry of "dolphins' was heard again and this time we were joined by common dolphins as they came over to bow ride alongside Proud Seahorse. Elizabeth G was close behind and both boats enjoyed good views of these spectacular animals as we approached St Kilda. We cruised towards the incredible sea stacks of Stac Lee and Boreray and the sense of anticipation and excitement to be arriving at this incredible place rose. Ross spotted a minke whale on the approach and we were lucky enough to get amazing views of the whale in front of Stac Lee.  We were welcomed by Vivi, the St Kilda Ranger and previous Wildlife Guide for Hebrides Cruises.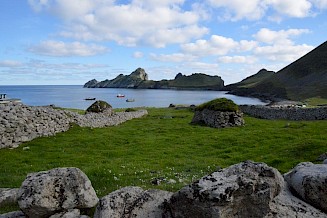 She welcomed our guests and gave them a brief taster of what St Kilda has to offer. After the long day, dinner was well received and we were treated to a seafood chowder, a lamb pie and lemon posset with Italian meringue!
Thursday 13th July
St Kilda
After a hearty breakfast of Scottish smoked salmon and scrambled egg, the guests and I went ashore to explore St Kilda. The guests aboard Proud Seahorse joined guests from Elizabeth G to climb Conachair, the highest summit on St Kilda. We started the ascent from Village Bay and made our way to the Gap, where the cliffs drop vertically to the sea for 300 metres and where those guests brave enough peered over the edge. Shortly after continuing upwards we got our first experience of the great skua or 'bonxie' dive bombing us as we walked close to their hidden nest sites. We were all very grateful for Rob (the Skipper on Elizabeth G) and his luminous yellow hood as they seemed quite taken by that! Unfortunately, the weather closed in and we made our descent in the driving rain!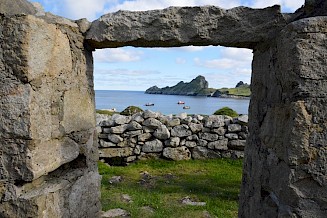 We dried off and warmed up with some soup and a few mugs of tea before heading back ashore to explore the museum and small shop.
Friday 14th July
St Kilda to East Loch Tarbet
We made our way back to the Outer Hebrides in less favourable weather conditions compared to the passage to St Kilda. However, we still managed to spot some interesting wildlife! Shortly after leaving Village Bay we got brief views of a small number of white beaked dolphins. As we continued on we were joined by a pod of common dolphins who stayed to bow-ride with Proud Seahorse. We steamed through the sound of Harris and into the Minch before dropping anchor in East Loch Tarbet. A sneaky minke whale was spotted but it proved difficult to keep track of and we continued onto our anchorage. After the long steam, the guests and I went ashore to stretch the legs and enjoy the lovely views across the bay.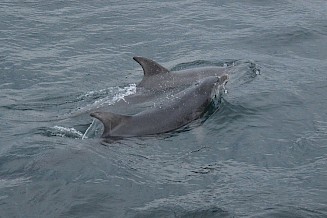 Saturday 15th July
East Loch Tarbet to Portree
We steamed across the Minch and towards the dramatic north coast of Skye. Due to the weather conditions, the decision was made by the guests to continue onto Portree for a sheltered anchorage and to seek some up-to-date Wimbledon news.
Sunday 16th July
Portree to Isleornsay
We woke to windy but dry conditions and it wasn't long before we were treated to yet another dolphin sighting, this time, common dolphins feeding in the Sound of Raasay just outside of Portree. They put on a spectacular show with some coming over to bow ride. All on board delighted in seeing the pod work together in the feeding frenzy and enjoyed the spectacular show the gannets put on too! We were lucky enough to get a second sighting of a smaller pod of common dolphins as we made our way south. Due to the times of the tides through the Kyle Rhea narrows we stopped for lunch in Plockton, a very pretty mainland town. We spent a couple of hours exploring the shops and the beautiful grounds of Rudha Mor. These gardens are privately owned but open to the public and are more than worth a visit. We spotted butterfly orchids, common spotted orchids and northern marsh orchids.
Monday 17th July
Isleornsay, Skye to Canna to Rum
We left the Isle of Skye behind and made our way across to the Small Isles, deciding to visit Canna first. Once again, we were joined by a small-group of bow-riding common dolphins as we approached the pretty island. Catherine, James and I took a walk-up Compass Hill to take in the glorious views in the sunshine. Common dolphins and common seals were spotted from the summit. Afternoon tea was served whilst Skipper Rob from Elizabeth G donned his diving gear and went in search of scallops for both boats' evening meal – what a treat! Proud Seahorse lifted anchor and steamed to the Isle of Rum in glassy calm seas and glorious sunshine. We took in amazing views of the Cuillin mountain ridge where the clouds obscured the base but the peaks were visible - stunning! We dined on hand-dived scallops with black pudding and truffle oil followed by fillet of hake with roast smoked salmon and pea risotto. Ross's delicious orange marmalade sponge with orange crème anglaise for dessert was a wonderful finale to a fabulous dinner.
Tuesday 18th
Rum to Kentra Bay
We were treated to another beautiful day - guests and Chris went ashore for a tour around Kinloch Castle on the Isle of Rum. After another lovely lunch, we steamed around the shores of Rum and had a lovely cruise,spotting two harbour porpoises. Then we were treated to a fabulous sunset, while guests enjoyed a glass of wine on deck.
Wednesday 19th
Kentra to Fishnish
Another glorious day in the Hebrides dawned and the guests and I went ashore to enjoy the Ardnamurchan coastline and the beautiful beach that is known as the Singing Sands. After a walk along the path to Ockle, Catherine, James and Fleur braved a swim in the sea whilst Jan and Vera dipped their toes in. After lunch, we started our journey south to the Sound of Mull where lots of seabirds were spotted, including feeding Manx shearwaters and diving gannets. We stopped in Bloody Bay in search of the resident white-tailed eagles and got a good view of the female bird sitting proudly in one of the conifers. Then a group of playful bottlenose dolphins appeared close to the boat. We watched them leaping around, entertaining us all for around 20 minutes before we had to say goodbye and continue our steam south to Fishnish where we anchored for the last evening on board.
Thursday 20th
Fishnish, Isle of Mul
Breakfast was interrupted by the presence of a white-tailed eagle overlooking the bay and obligingly he sat and gave us lovely views as we lifted anchor for the last time. We enjoyed good views of a white-tailed eagle chick and the double-bed sized nest along the Morvern shore before heading into Oban for our goodbyes.
There are only two cabins left for St Kilda this season on September 4th - book now! http://bit.ly/2q5XQDj