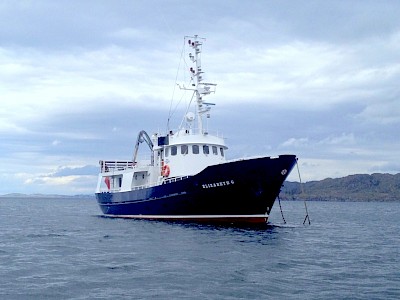 Saturday
Oban- Loch na Droma Buidhe
Hello all! Lynsey here for my first trip with Hebrides Cruises as a Wildlife Guide and I can't tell you how excited I am to get underway!
The first steam aboard Elizabeth G gave us some dramatic skies and wonderful scenery. Black guillemots were seen before we had even left Oban- to the delight of many of the guests. Guillemots, razorbills and common gull accompanied us up the Sound of Mull and a handful of majestic gannets were spotted. We anchored in Loch na Droma Buidhe off the entrance to Loch Sunart and we were just finishing our fantastic first meal when a white-tailed eagle was spotted from the saloon window! We all rushed to the deck to enjoy this amazing view of the largest bird of prey that can be spotted in the UK.  
Sunday
Loch na Droma Buidhe- Kentra
Elizabeth G departed early on Sunday morning in order to maximise some time spent searching for cetaceans before the wind speed picked up.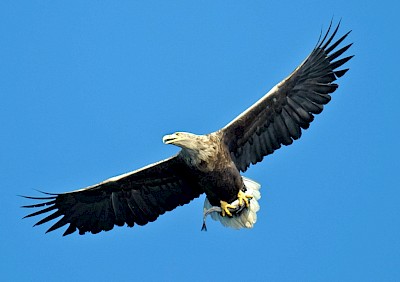 As we passed Bloody Bay on the Isle of Mull we were lucky enough to spot a pair of white tailed eagles- one of which gave us a great view as it flew into land close to the nesting site. We steamed out past Ardnamurchan point where a number of seabirds were seen, including guillemots, razorbills, gannets and a single storm petrel. The guests and I were awed to witness hundreds (probably more like thousands!) of Manx shearwaters congregated together to the north of Ardnamurchan lighthouse and we lingered awhile to watch the spectacle. We anchored in Kentra, alongside Proud Seahorse and went ashore to enjoy some sunshine and a lovely walk along the beach. Some of the guests spotted dunlin, a red-breasted merganser and ringed plovers.
Monday
Kentra-Isle of Canna
Today we left Kentra and steamed close to the Isle of Eigg to have a look at the amazing sea cliffs and see the country's largest pitchtone ridge known as the Sgurr of Eigg. Due to a large swell, landing on Eigg was not an option so we continued onwards to the beautiful Isle of Canna.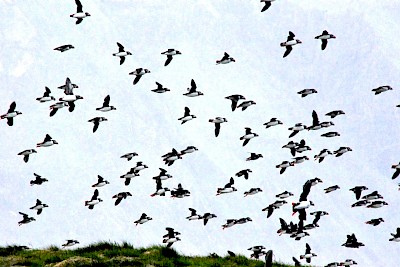 After lunch, myself and the guests went ashore to explore the island and we walked around to Sanday to have a look at the catholic church. Back on board Elizabeth G we enjoyed a fabulous afternoon tea.
Tuesday
Isle of Canna-Isle of Rum
We again went ashore on Canna and some of the guests accompanied me around to the east of Sanday to have a look at the 'puffin stacks'. We sat and watched hundreds of the iconic little birds fly round and round and occasionally land for a photo opportunity. In the afternoon, we left Canna harbour and steamed north to have a look at the Compass Cliffs and the sea bird colonies there. Puffins, fulmars, guillemots and razorbills surrounded us in calm waters and we were treated to great views of a harbour porpoise. We then steamed into Loch Scresort on the Isle of Rum for the night.
Wednesday
Isle of Rum-Loch Scavaig-Loch Nevis
A couple of hours were spent on Rum this morning where we explored the Otter Hide (and sadly didn't find any otters!) and then some went on to explore Kinloch Castle. Common seals were spotted in the bay, as were whimbrel, curlew and common sandpipers. Some of us were even lucky enough to spot a treecreeper.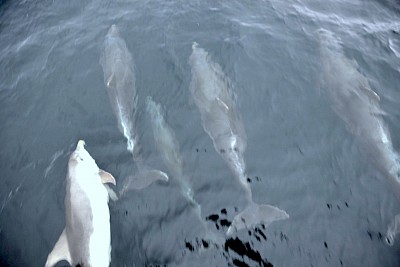 On leaving Canna, we steamed north to Loch Scavaig on the Isle of Skye to enjoy a lunch of pea and mint risotto followed by a short walk to the stunning Loch Coruisk where common terns were spotted. After a tender ride back to Elizabeth G we settled in for a steady steam south to Loch Nevis where Skipper James spotted 5 bottlenose dolphins which came to have a good look at us. The guests were delighted to watch them at the bow and I was excited to recognise a couple of the individuals within this small pod. After having previously spent six months compiling photo ID catalogues for bottlenose dolphins I could identify at least 3 of the animals that put on a show for us and know that they are part of the Inner Hebridean community of bottlenose dolphins.
The dolphins got bored of us long before we werevbored of them and we steamed into the beautiful and calm Loch Nevis. As we dropped the anchor we were excited to see a number of harbour porpoise in the area and spent some time on deck watching these usually shy cetaceans.
Thursday
Loch Nevis-Tobermory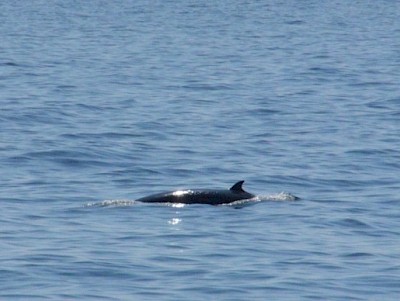 We woke up to beautiful sunshine and blue skies and a number of the guests enjoyed a coffee on deck before breakfast. More harbour porpoises were spotted on leaving Loch Nevis. As the sea was calm and the sun was out we took to the top deck in search of some marine mammals. We were rewarded once we arrived at the Cairns of Coll as a Minke whale emerged amongst a mass of feeding gannets and Manx shearwaters. The whale delighted us all by passing close to the boat before disappearing into the mass of seabirds again. Proud Seahorse came to join us in the whale watch and were rewarded with a view too. The excitement continued as we turned to head for Tobermory and we were lucky enough to spot a further 5 (or more!) Minke whales in the calm seas - what a great day to be out of the sea! On reaching Tobermory, the guests went ashore to enjoy the colourful view and the continued sunshine before we sat down to our last meal on board. We had hand dived scallops, followed by pork tenderloin and calvados apples and a raspberry and white chocolate semi-fredo for dessert-delicious! Thanks to Chef Tamara for your splendid food this week!
Friday
Tobermory- Oban
We were delighted to see that the sunshine continued this morning as we left Tobermory and steamed south down the Sound of Mull and into Oban. A white-tailed eagle topped offthe end of the trip perfectly! A grand total of 59 bird species and 5 marine mammal species, including Minke whale and bottlenose dolphins were spotted during the trip.