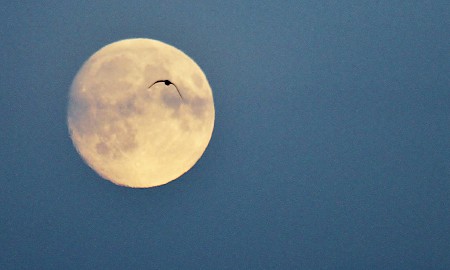 My last cruise of the season was an autumnal delight, with another colourful landscape behind every corner and wonderful sunny days on Staffa and Iona. We had a double dolphin visit in the Sound of Iona and rounded it all off with the roaring of stags from the hills surrounding Loch Spelve.  It is with a heavy heart that for now I say farewell to Hebrides Cruises for this season, but I am already looking forward to the spring of 2016! I hope you will be there to experience it with us!
Saturday
We steamed up the Sound of Mull looking for eagles and porpoises on the way, but with nothing much to be spotted. Even bird activity was quieter than usual, but just as we steamed into Loch Sunart one of the guests spotted a red-throated diver and Vivi and the guests on deck spotted a group of four harbour porpoises feeding. We anchored in Loch na Droma Buidhe and  enjoyed a wonderful dinner with local langoustines for starter which everyone enjoyed! We rounded it all off with a dessert of Eton Mess to the backdrop of a  beautiful big full moon rising up over the skyline.
Sunday
In the morning we did a small hop to Glen Bay to visit Nàdurra Nature Centre where two guests spotted a very distant pair of eagles. While waiting for the centre to open we walked along the beautiful shores of Loch Sunart and spotted an otter fishing! Meanwhile  Skipper Rob had taken the opportunity to dive for some scallops. Back on board we did another short hop over to Tobermory to shelter from the gales forecast to blow up later in the evening. Vivi took the guests ashore for a fungi foray in Aros Park finding several edible species, such as chanterelles, hedgehog mushrooms, winter chanterelles and woolly milkcap. Some guests also went exploring Tobermory and spotted a dipper by the famous river that gives the town its name. That evening we dined like kings on fresh king scallops and sea bass in vanilla vinaigrette. During the night some guests got up to watch the moon over Tobermory bay turn red from the lunar eclipse.
Monday
On Monday we rounded Caliach Point, the most westerly point on Mull and anchored in Calgary bay to give the guests a chance to explore the beautiful beach and to walk along the cliffs in search of wildlife. No otters were spotted, but we had close views of a kestrel hovering on the gusty winds. Back on board we hopped down to Loch Tuath and anchored for the night on the north side of the Isle of Ulva were we spotted deer, including the evocative sight of a stag against the skyline. We dined that evening on more fabulous local delights: a starter of Inverlussa mussels; local venison sausages with sweet potato mash for main course and a true Scottish treat, Cranachan, for dessert – perfect!
Tuesday
Tuesday morning started well with the Skipper spotting an otter swimming in the bay. We then headed south for Loch Coal near Bunessan on the Ross of Mull. As we arrived we spotted two golden eagles circling overland. Our guests went ashore to explore and Vivi took measurements and tooth samples of a dead dolphin calf. Vivi was able to identify the dolphin as a striped dolphin – an offshore species that is quite common in strandings, but not commonly sighted. The information and samples will be sent to the Scottish Marine Animal Strandings Scheme. After this little examination, we walked from our drop-off point to a lovely beach called Garbh Phort spotting large flocks of finches, snipe and merlin on the way. That night at dinner, everyone's favourite was the banoffee pie for dessert.
Wednesday
The wind had died down so we were able to land on Staffa to explore the famous Fingal's cave, made up of large basalt columns. The guests walked around the island while Vivi tried spotting cetaceans from the cliffs (plenty of diving gannets but no blubber!). After having explored all nooks and crannies of Staffa, and finding one early seal pup, we set off for the next magical island – Iona! We steamed into the Sound of Iona in fantastic sunshine, the turquoise clear waters looking more like the Mediterranean than the Scottish west coast. We went ashore and walked the beaches of Iona in t-shirts. The island is famous not only for its religious history but also for its birdlife. We spotted, amongst other species, large flocks of twite and starling and two buzzards guarding separate fence posts. When we returned to the boat we heard that those who stayed onboard had been treated to a visit by the local bottlenose dolphins! We were gutted to have missed them, but needn't have worried as the dolphins returned in the evening and put on a fantastic display with big jumps. Some of the dolphins came very close to the boat, including a small juvenile. What a fantastic ending to a perfect sunny day!
Thursday
We woke in the morning to a thick fog surrounding the boat. We steamed along the south side of the Ross of Mull hoping that the fog would clear, but it seemed hopeless! We were in luck though as the fog cleared just enough for us to get a good look at the Carsaig arches. Then the fog thickened again as we steamed into Loch Buie. As we set out for our afternoon walk the sun finally managed to burn through and we were again walking in glorious sunshine. We spotted several buzzards (trying desperately to turn them into eagles!) and found some oyster mushrooms to Vivi's delight. We were picked up by tender at Loch Spelve and had a lovely final seafood dinner: mackerel salad for starter; oven-baked hake for main course and a fresh fruit salad with brandy cream for dessert. After dinner we listened to the powerful sounds of rutting stags near by.
Friday
In the morning we woke to beautiful scenery with a fog slowly rolling down from the glen. Scotland never ceases to amaze with the most scenic displays. It was with heavy sadness that I set out on my last leg back to Oban on the Elizabeth G for this season. As I stood on deck looking for any final porpoise sightings I reflected on all the wonderful sightings and moments I've had from that exact position on deck, from the first time we steamed into St Kilda to see the curious juvenile Minke whale to all the ecstatic times of bow-riding dolphins. What makes all those moments truly special is that we were able to share them with our enthusiastic guests. Shared happiness is definitely happiness doubled! Seeing people shed tears of joy for seeing dolphins makes me incredibly happy, but also a bit sad for all those who have yet to experience their own Hebridean adventure. So I really hope that you will join us for more magic onboard Eizabeth G in 2016!