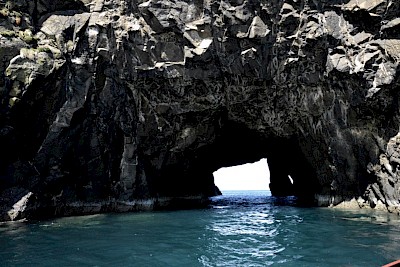 Skye, the Small Isles and The Shiants 8-night cruise: 29th May-6th June
Read the report from Lynsey,  our onboard Wildlife Guide for this cruise who also provided the photos
Monday
Oban- Loch na Droma Buidhe
My first steam aboard Proud Seahorse started off pretty damp leaving Oban but as we got further north up the Sound of Mull the sky cleared, we got ourselves outside on deck and started to see some wildlife! Black guillemots, common guillemots, razorbills and common gull accompanied us and a handful of majestic gannets were spotted. We also spotted a number of harbour porpoise close to Duart Castle – great start to our trip! We anchored in Loch na Droma Buidhe for the evening and were treated to a delicious dinner prepared by our amazing chef, Ross.
Tuesday
Loch na Droma Buidhe- Tobermory
Leaving Loch na Droma Buidhe we steamed across the Sound of Mull into Bloody Bay on the coast of Mull looking out for the Sea Eagles that are known to nest there.  Our Skipper, Rob made the decision to shelter in Tobermory Bay for the afternoon as the forecast was not in our favour.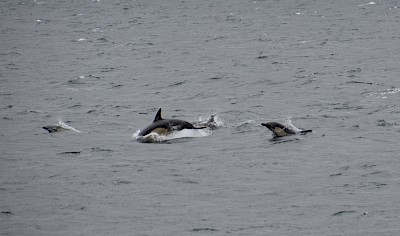 Guests enjoyed a walk to Aros Park through attractive woodland to explore the coastline and waterfalls before indulging in a spot of shopping along the main street of one of Scotland's most colourful villages.   
Wednesday
Tobermory- Kyleakin, Isle of Skye
Today we left Tobermory after another fabulous breakfast of scrambled egg and smoked salmon and steamed north. We were delayed shortly after leaving due to a sighting of a minke whale, which all guests and crew enjoyed! We were treated to incredible views of the most commonly sighted baleen whale in the Hebrides as it came over to have a good look at us. It surfaced a handful of times very close to Proud Seahorse, much to the delight of the guests, the Skipper and myself. A celebratory 'minke dance' may have taken place!  Throughout the cruise any whale, dolphin or porpoise sightings (time, date, species and location etc) will be recorded by myself and this information will be passed onto The Hebridean Whale and Dolphin Trust (HWDT). Over the next few weeks we are hoping to start testing a sightings app which is being developed by HWDT which will make the process of recording sightings easier, more accessible to all and more accurate. Any photos that we get from encounters with marine mammals are also shared with HWDT which help to update their existing photo ID catalogues and allows for the identification of individual whales and dolphins in the Hebrides and track their movements.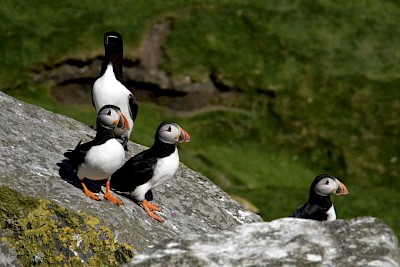 We continued north, past the Isle of Eigg and up into the Sound of Sleat. A further two minke whales were spotted.  The sun had come out, and the sea had calmed to give us perfect conditions and many of the guests enjoyed views from the fly bridge . It certainly was one of the best days so far this year!  We anchored for the evening in a lovely remote bay just to the south of Kyleakin – it's a favourite for our Skipper. 
Thursday
Kyleakin- Isle of Rona
Proud Seahorse steamed north beneath the Skye Bridge and into the Sound of Raasay where a number of sea birds, including Manx shearwaters and gannets were seen. Sadly, the rain started to come down but our spirits couldn't be dampened as we were treated to views of approximately 30 common dolphins in small pods feeding. A few did come over to bow ride but largely they continued on with their hunting. It is always great to observe these wonderful animals in the wild going along with their day to day activities! After anchoring in this remote location renowned for its wildlife and archaeology, guests enjoyed a lovely walk to the village ruins with some guests indulging in a dip in the hot tub.  That evening we all enjoyed an excellent roast dinner followed by a slice of 'chocolate nemesis'-a heavenly dessert!
Friday
Isle of Rona-The Shiant Isles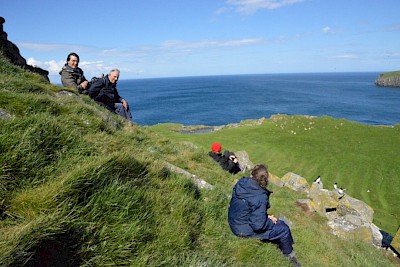 We woke to a dry morning, which only grew brighter and warmer as the day went on and we reached the Shiant Isles. We took a trip around the massive 120m high columnar basalt cliffs where were surrounded by sea birds including puffins, guillemots, razorbills, kittiwakes and fulmars. A spectacular sight, especially in the sunshine! Then after some lunch the guests and I went ashore in search of some puffins, and boy were we rewarded. With every step, we took more of these iconic seabirds emerged at our feet along with guillemots and razorbills. We sat amongst thousands of seabirds for over an hour and we were able to get some great close up photos! As the sun set we were able to watch the many thousands of birds flying around from the deck of Proud Seahorse and toasted to another great day on board.
Saturday
The Shiants- Isle of Canna
We all woke to sound of the seabirds this morning and were sad to say goodbye to this spectacular place as we steamed south to the Isle of Canna. On this journey, we were accompanied by yet more minke whales. We enjoyed stunning views of Skye's west coast as we passed Dunvegan Head and Neist Point.  It was a good steam to get to down to the west side of Skye but it was well worth it as we went into the iconic harbour on the Isle of Canna.   Here, guests enjoyed a short walk ashore before dinner.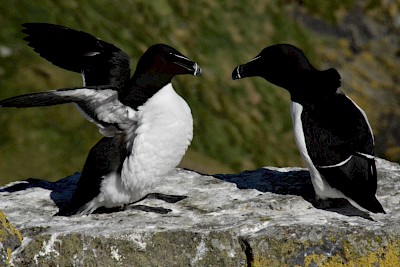 Sunday
Isle of Canna- Isle of Rum
After breakfast, we set out to explore the Isle of Canna. I took guests on to Sanday and along to the sea stacks in search of puffins whilst some guests enjoyed a coffee in Café Canna or a hike up Compass Hill. It's safe to say that Canna was a hit with all on board. Whilst we went ashore, Skipper Rob went diving for scallops and came back with a spectacular haul for dinner that evening! After lunch, we steamed to the Isle of Rum for the evening. Ross worked his magic in the galley once again and we had Rob's hand-dived scallops with celeriac puree, black pudding and truffle oil followed by smoked haddock risotto and a triple chocolate brownie. 
Monday
Isle of Rum-Loch Scavaig-Glen More Bay, Ardnamurchan
On leaving the Isle of Rum we steamed across to Loch Scavaig on the Isle of Skye and took a walk to Loch Coruisk in the heart of the mighty Cuillins. Guests were delighted to see the low cloud clear and catch a glimpse of the jagged peaks of the black Cuillin ridge. Common spotted orchids were spotted alongside the rocky path and arctic terns and common seals were seen in the bay. We then made our way back south to Ardnamurchan for the night. En route two minke whales and some harbour porpoises were sighted.
T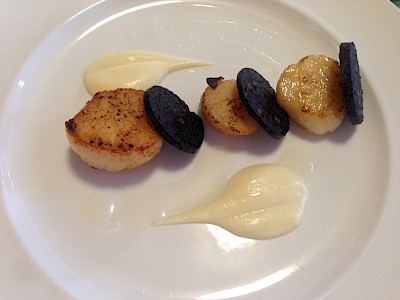 uesday
Glen More Bay- Oban
We awoke on the last morning of the cruise and although a bit overcast, had an otter watch before breakfast as we have had a lot of sightings here before.  We then began our steam south down the Sound of Mull. We were lucky enough to spot a white-tailed eagle on the Morvern shore and were treated to some amazing views of both adults and the huge nest of the largest bird of prey in the UK, a great way to finish a wonderful cruise.