Report by Wildlife Guide Lynsey Bland aboard Elizabeth G 29th July - 4th August 2017
Saturday: Oban - Loch na Droma Buidhe
The first steam aboard Elizabeth G gave us some dramatic skies, wonderful scenery and impressive seabirds. Guillemots, razorbills and common gull accompanied us up the Sound of Mull and a handful of majestic gannets were spotted. On approaching our anchorage for the evening, we spotted a couple of harbour porpoises, the smallest cetacean found in the Hebrides. We anchored in Loch na Droma Buidhe and enjoyed our first fantastic meal from chef Stevie. 
Sunday: Loch na Droma Buidhe - Loch Scresort, Isle of Rum.
Elizabeth G departed early on Sunday morning and we were once again lucky enough to spot a handful of harbour porpoises as we left Loch Sunart.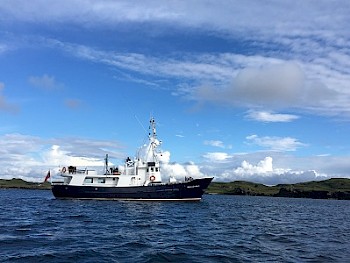 We steamed out past Ardnamurchan point where many seabirds were seen, including guillemots, razorbills, gannets and arctic terns. We dropped the anchor in Loch Scresort on the Isle of Rum and enjoyed a delicious lentil and bacon soup for lunch. The guests, myself and skipper Chris went ashore and enjoyed a sunny walk around Kinloch Glen and spotted four majestic red deer stags. For the adventurous few, we hiked up to Coire Dubh viewpoint. After another fine dinner, I spotted hundreds (or more likely thousands) of feeding Manx shearwater and diving gannets just in the entrance of Loch Scresort which gave us all a fantastic treat to end a fabulous day.
Monday: Isle of Rum to Loch Scavaig, Isle of Skye - Isle of Canna.
We left the Isle of Rum to head for the impressive Loch Scavaig on the Isle of Skye. Due to the fantastic sea conditions and clear weather we set out in search of marine mammals first however. We spotted plenty of feeding seabirds, including a few puffins!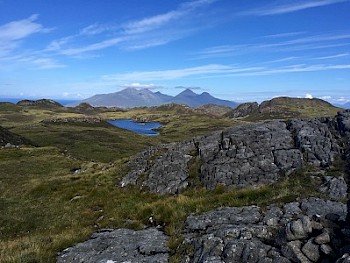 We were eventually rewarded just as we were approaching the Isle of Soay when a minke whale appeared on the port side of Elizabeth G. The rain had started by then but all guests got a pleasant view of this animal. After lunch, we went ashore and walked to Loch Coruisk, a stunning freshwater loch, 6m above sea level and at the foothills of the mighty black Cullin mountains. Back on board, the skipper steamed towards the Isle of Canna, where we were joined by a single common dolphin! Chris decided to give us all a tour of the cliffs at Canna to have a look at the seabird colonies. We spotted guillemots, razorbills and a lot of puffins sitting on the water. The highlight and surprise was not one but four golden eagles either flying or sitting on the cliff top. For all of us, to see these magnificent birds up close and in a beautiful setting was a real treat. We anchored for the evening in Canna and enjoyed another lovely meal including a smoked salmon salad for starter.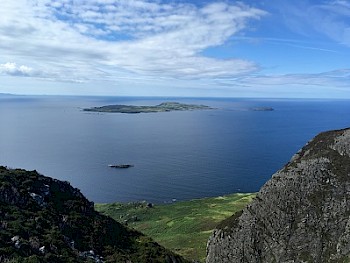 Tuesday: Isle of Canna-Isle of Isle of Muck
We woke this morning to beautiful blue skies and the sun shining. Myself and the guests decided to enjoy a walk-up Compass Hill to enjoy the stunning views over towards Skye and Rum. We descended and took a detour out to the early Christian Cross and Punishment Stone. Unfortunately, the rain was starting to fall and we all made for the refuge of Elizabeth G for tea and lunch. The rain had stopped and the skies had begun to clear by the time we reached the Isle of Muck - our next destination. We landed in the northern bay where arctic terns and common seals bask on the rocks. The guests took a walk across the small island towards the main settlement of Port Mor.
Wednesday: Isle of Muck to Isle of Eigg
We lifted the anchor early and headed over to the Isle of Eigg to complete our tour of the four Small Isles. Today the weather was glorious and we were all looking forward to exploring ashore. The group split today, with myself and Dennis setting out to scale the Sgurr of Eigg and Chris and the others went off towards Massacre Cave.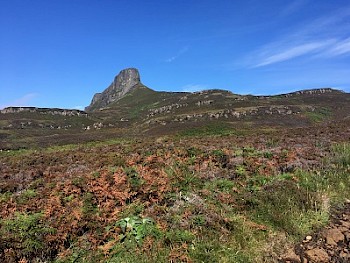 Less than an hour after we had left the boat we got a call in the radio from bosun Mark that there was a basking shark swimming close to the boat! Thankfully the second largest fish in the world decided to hang around (and even be joined by a second!) until we all made it back to Elizabeth G where we all got to enjoy incredible views of these amazing sharks! After another fabulous lunch, we lifted the anchor and set out for Kentra Bay on the Ardnamurchan peninsuala. En-route I spotted another minke whale feeding amongst a raft of seabirds! We paused to watch and were spoilt with a good sighting of not one, but two of these whales close to Elizabeth G. Whilst we enjoyed this sighting, a small pod of feeding common dolphins was spotted too, adding to our growing list of wildlife for this 6-night cruise – fantastic!
Thursday: Kentra Bay to Tobermory to Ardtornish
We woke up to the calmest sea most of us had ever seen!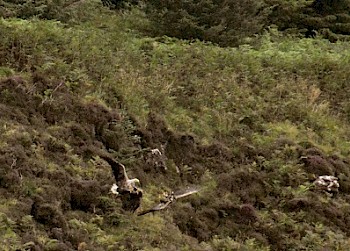 It was so flat you could see the jellyfish coming to the surface of the water-amazing! With mounting anticipation at what we might see in these fantastic conditions we left Kentra Bay and steamed west towards Ardnamurchan point. It wasn't long before we all got a glimpse of our first of approximately 40 harbour porpoises spotted today. These small cetaceans are usually tricky to spot but thanks to the amazing conditions we all managed to get good views of these elusive but fantastic mammals. About mid-morning the engines were slowed again as another minke whale was spotted off the coast of Eigg. This one put on an amazing display of lunge feeding amongst a large group of Manx shearwaters. A further 3 minke whales were spotted on this passage keeping myself busy as I recorded the data to pass onto the Hebridean Whale and Dolphin Trust via their new app! As we entered the Sound of Mull and approached the location of a white-tailed eagle nest we got a final glimpse of a small minke whale which was soon christened a 'dinky minke' by all on board. We came around into Bloody Bay and a female white tailed eagle was spotted sitting high and proud in one of the tall conifers. We watched for 10 minutes or so when the excitement picked up as this year's chick took off from an unknown perch and flew above the female before landing on the shore to pick at a fish that must have been caught earlier that day. The encounter didn't stop there! After a few minutes sitting on the shore, the youngster took off again and approached the female, who also took to the wing and we were all awed to see them link talons and 'play about' in the air. An amazing sight and one we will all remember! We arrived to a busy Tobermory where the guests enjoyed a final explore ashore before making our way down the Sound of Mull towards our final anchorage - Ardtornish. Here we sat down to our final meal of the week from chef Stevie - a lovely roast loin of pork with all the trimmings. 
Friday:Ardtornish to Oban
Our final morning dawned and to be quite honest the weather was probably the worst it had been all trip- slightly windy and overcast! We steamed towards Oban, making a short detour to the Morvern shores in search of one final eagle. Unfortunately, there were no birds to be seen but the large nest of the fourth largest eagle in the world could be spotted! As we made our way into Oban, a number of the guests remarked on how many walks we had managed to enjoy in 6 nights and how many new species of birds and cetaceans they had seen this week. For most, their first view of a whale will be remembered fondly!