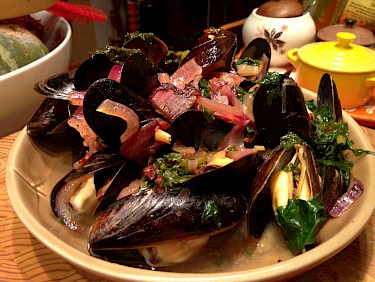 Pip Pedley is one of our onboard chefs for this season and she has provided us with her favourite mussel recipe!
Here is a deeeeelicious recipe for mussels, sourced from Inverlussa Mussels on Loch Spelve on Mull of course!
Bacon & mussel chowder with kale (serves 3-4)
500g mussels, well scrubbed & beards pulled off
2 tablespoons rapeseed oil
150g smoked streaky bacon or pancetta lardons
1 large fennel bulb, outer tough layer removed & thinly sliced
1 leek, washed & sliced thinly in rings
100ml dry white wine (and a wee glass for yourself)
150g Kale, thick stalks removed, washed & shredded (Savoy cabbage will substitute nicely)
Salt & pepper
Check through the mussels. Tap them sharply on your work surface. Discard any that do not open or have been damaged. Heat the oil in a good-sized sauce pan. Fry the bacon on a medium/high heat till golden and crispy. Add the fennel and leek. Give this a good old stir and fry for a further 8-10 mins.
Chuck in the mussels and the wine, roughly 400ml hot water and a generous sprinkle of salt and a good pinch of pepper. Scatter the kale on top of the mussels. The idea is that it steams rather than boils so it wants to sit above the mussels. Turn up the heat to high, put the lid on and cook for about 5 mins. Have a check to see if all the mussels have opened – give the pan a controlled shake from side to side with the lid on (you don't want mussel broth all over you!). Discard any that haven't opened.
Have a taste and add a bit more salt & pepper if necessary. A nice bit of chopped parsley wouldn't go amiss here. Ladle out into deep bowls and serve with a good hunk of crusty bread. Sit back and enjoy a little moment…