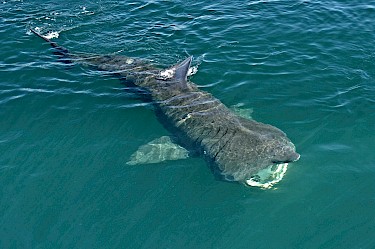 The Hebrides is still the best place in the world for sighting basking sharks
Basking Shark Scotland (BSS), based in Oban recorded 250 individual basking shark sightings last year, despite many places in the UK recording their lowest numbers in many years. The sightings ranged from Caithness to Dumfries & Galloway, but the highest concentration of sightings were recorded in the Hebrides.
BSS says this demonstrates that the Hebrides is still the best place in the world for sighting basking sharks.
The company uses tourism to assist with conducting citizen science on the basking shark population, and works alongside university researchers and provide data to them along with their public submissions.
The BSS sightings are a mixture of public submissions and their own sightings. The largest number spotted in one shoal on one day was over 30 individuals and occurred during a large summer plankton bloom. Although public sightings submissions had dropped by a third in 2014, BSS sightingsincreased by 23% compared to 2013
BSS encourage the public to get involved with spotting the sharks as the more people that can record them from different areas, the better the data is for the scientists studying their movements. During their expeditions, their marine biologist staff collect a large amount of data on the sharks including gender, length, location, bodily features for future identification and any specific behaviour such as breaching.
The basking shark is the second-largest living fish, after the whale shark, and one of three plankton-eating sharks, the others being the whale shark and megamouth shark.
Basking Shark Scotland encourages the public to submit their own sightings at http://baskingsharkscotland.co.uk/scottish-basking-shark-sightings/