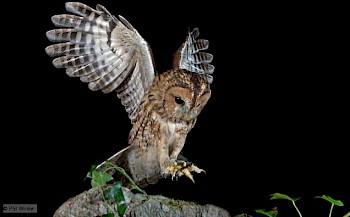 We really appreciate when guests take the time to give us detailed feedback.  Our first cruise of the season to the Isle of Mull did not get the best of weather but hopefully this review from our guest Felicity Lovell gives an insight that the weather is not essential to a great cruise experience.  We are very proud of our crew and pleased that having a wildlife guide aboard meant guests spotted many species – the Tawny Owl is a first for us.
"The scenery was stunning, the guide was wonderful, she accompanied us on all tours she was very friendly and extremely knowledgeable as was the captain Rob and first mate Sarah. We were a little unfortunate with the weather and a few of the other guests with poorer sea legs that meant we were unable to get to a few of the islands that we had hoped for. However we thoroughly enjoyed all the places we did see and we learnt so much about the area, the flora and the fauna it has whetted our appetite for a further trip.
We had a cosy cabin which was very comfortable, our room was lovely and warm even on the coldest nights. The boat was beautifully clean, the dining room was set up to encourage group camaraderie which worked very well. Occasionally we lost the hot water however it was the first trip of the season and the odd glitch is always to be expected. The boat and facilities were kept spotless by the hard work of the cabin crew throughout the trip.
The food was absolutely excellent. Plentiful, delicious, healthy and varied with local interest. All of the cabin crew could not have been more helpful in making our stay very enjoyable. The captain even dived for fresh scallops which we had for supper. They were stunning, the best we had ever eaten. We also had home cooked cake at tea time which was delicious.
Having the guide was a great addition, and the intimacy of the group and crew was also a real boon.  Having the weather to get to some of the other islands would have been great but no-one can control that! Overall it was a really great trip which we will remember always"