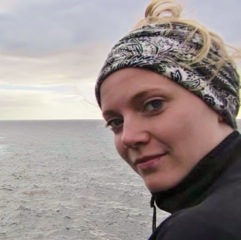 Guests on many of our 2015 cruises will be invited to take part in important research on the distribution of the larger marine animals which we encounter on our voyages throughout the Hebrides. This is possible because we are delighted that Vivi Bolin will be coming on board as onboard and onshore Guide for our guests. Vivi is a biologist with a masters degree in conservation biology and a personal passion for seabirds and cetaceans. She is expert in spotting and identifying whales and dolphins.
Cetaceans, seals and basking sharks as well as sunfish sightings will be recorded using Logger, software used by scientists across the world. Vivi will record sightings, and guests will also have the unique opportunity to get involved if they wish. The data recorded during the cruises will be shared with the Hebridean Whale and Dolphin Trust to feed into important scientific analysis. Passengers with SLR cameras will also be encouraged to take photographs of dorsal fins; good quality shots are very valuable to scientists as the pictures can be used to track individual whales and dolphins.
Vivi worked for the Irish Whale and Dolphin Group and BirdWatch Ireland and moved to Mull to work for the Hebridean Whale and Dolphin Trust. Vivi is from Finland and currently living on the Isle of Mull.