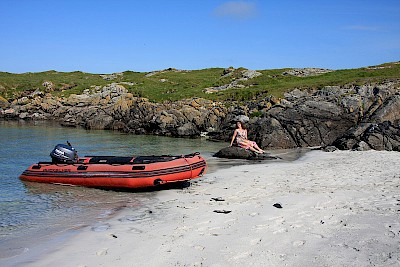 Private Cruise Charter is literally the trip of a lifetime. Choose your own destination and itinerary, including St Kilda, and share an unforgettable adventure with your family and friends. Cruise to remote, secret and idyllic places to encounter rare wildlife, get close to centuries of history and enjoy your own preferred activities.  We can take you kayaking, canoeing, walking, cycling and wild swimming – or you can simply sit back and relax.
Private Cruise Charter has a 10% discount on the normal price of a full boat of 12 guests on board Elizabeth G and 10 guests on board Proud Seahorse. Charter is still available on some dates for 2017; any date with no bookings is available for charter, but we are booking up fast for 2017 so don't delay in contacting us to secure your date. We are also now taking charter bookings for 2018.
A Private Cruise Charter comes with a very personal service from our four crew, including inspiring, engaging and educating any children on board. Cruising to remote islands, onshore trips and full-onboard hospitality, including gourmet meals, make this a real adventure, but with comfort and safety.  In particular a family charter is an unforgettable holiday for children.
Price & Availability for Private Cruise Charter 2017 & 2018
Charter prices include a 10% discount on the price of a full boat of 12 guests onboard Elizabeth G and 10 guests onboard Proud Seahorse
| Number of nights | Elizabeth G (up to 12 guests) | Proud Seahorse (up to 10 guests) |
| --- | --- | --- |
| 4-nights | £7,500.00 | £13,100.00 |
| 6-nights | £13,750.00 | £19,656.00 |
| 6-nights Caledonian Canal Cruise | £10,750.00 | £16,656.00 |
| 8-nights | £17,250.00 | £26,208.00 |
| 10-nights | £20,450.00 | £32,760.00 |
| Date | Cruise | Nights | Spaces | Vessel | Book Online |
| --- | --- | --- | --- | --- | --- |
| 20 August 2018 | Skye and the Islands of the Inner Sound | 8 | 10 | Proud Seahorse | Submit Enquiry |
| 15 September 2018 | Skye and the Small Isles Explorer | 6 | 10 | Elizabeth G | Submit Enquiry |
| 22 September 2018 | Mull, Iona and Coll Island Explorer | 6 | 10 | Elizabeth G | Submit Enquiry |
| 29 September 2018 | Caledonian Canal Explorer | 6 | 10 | Elizabeth G | Submit Enquiry |
| 6 October 2018 | Caledonian Canal Explorer | 6 | 10 | Elizabeth G | Submit Enquiry |
| 13 October 2018 | Inner Hebrides Big 5 Autumn Wildlife Cruise | 4 | 10 | Elizabeth G | Submit Enquiry |