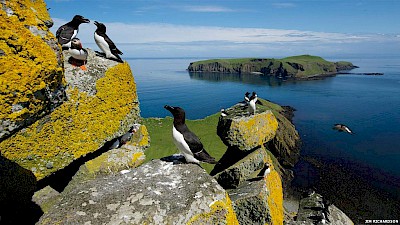 The Shiant Islands are a small group of islands in the Outer Hebrides, four miles or so off the coast of Lewis and 12 miles from the northern tip of Skye, which lies almost due south of them. They are a specially protected area and without doubt, one of the marvels of the Hebrides.
The main islands are Garbh Eilean (rough island) and Eilean an Taighe (house island), which are joined by a narrow isthmus, and Eilean Mhuire (island of the Virgin Mary) to the east. Eilean an Taighe was called Eilean na Cille (island of the church) prior to the 19th century. The seacliffs on the North side of Garbh Eilean are similar to St.Kilda and the Islands are often described as a "mini St.Kilda".
The Shiant Islands are one of the great bird places of the world, with so many birds that counting them is nearly impossible. According to the best estimates of modern ornithologists, there are between fifteen and eighteen thousand guillemots, eight to eleven thousand razorbills, between four and six thousand fulmars, two thousand kittiwakes, roughly fifteen hundred shags, a few hundred gulls of various kinds (whose numbers are rising), twenty-six great skuas, also on the increase, and two hundred and forty thousand puffins, about one in eight of the British total and two per cent of all the puffins in the world. In July 2009 Europe's oldest puffin, aged 34, was discovered on the Shiant Islands, beating the previous record holder, an Icelandic bird, by one year. An ancient 32 year old puffin was also found which had, unbelievably, originally been ringed on the same island in 1977.On our cruises we have also seen white-tailed eagles here.
Getting onto the shores of the Shiants is not the easiest of landings but, we know the Islands well and it is always worth the effort. We anchor overnight in the 'Horse Shoe harbour' which provides excellent shelter. Watching the birds flying in on late summer evenings is an unforgettable sight. We spend at least two hours cruising around the sea cliffs, to view the birdlife and to soak in a great sense of wilderness.
The Shiant Isles are now uninhabited but an ongoing archaeological research project has uncovered ceramic remains dating from the late bronze age through to the mid 20th century, including Pictish and Viking artefacts.  The Islands were given to Adam Nicolson on his 21st birthday and his book "Sea Room" tells the story of these islands and his emotional attachment to them  which is well worth reading.