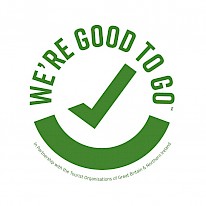 We have everything in place to resume cruising this year, and really can't wait to welcome our guests onboard again and head out to sea.  We are signed up for the Visit Scotland "Good to Go" scheme to ensure a safe cruising adventure for our guests, crews, and the communities we visit. 
We are also respectfully asking our guests to do their bit to help keep Covid-19 away from the islands we visit.  Most of the island populations have had low numbers of Covid-19 cases and may be more vulnerable to transmission.  The Scottish Government requests that all travellers to the islands take a Covid-19 Lateral Flow 3 days prior to travel and on day of departure.   You can order a free home test kit online here.  
We have been working closely with Sail Scotland, which provides advice on the marine sector for the Scottish Government on safety at sea, in relation to Covid-19.  From our discussions, we have developed Covid -19 safety protocols for cruising this season. We are confident our safety measures will ensure the safety of our guests and crews, without affecting the atmosphere of fun and fellowship on board.
Pre-boarding measures:
Crews will all be tested before each cruise and self-isolate between having their test and guests boarding.
Please also be aware that if you come into contact with a person infected with Covid as you travel, or on arrival in Oban and are asked to self-isolate through track and trace, you will not be able to board.
Onboard hygiene:
Our ships are always immaculate, but the entire vessel will be deep cleaned and sanitized between each cruise.  A regime of constant cleaning of surfaces during cruising will ensure no virus can be transferred by touch. 
Both guests and crews will follow the hygiene we are now all so used to, in terms of handwashing and sanitizing.  There will be sanitizer stations aboard the vessels and an individual sanitizer given to each guest in their cabin on arrival. 
Crew will wear masks in certain situations and will keep a safe distance. We will also request our guests to wear a mask whilst moving around inside the vessel.
Crew and guests will be required to practice social distanncing at all times, set out by the Scottish Government.  
Cruising and shore visits
Most of our cruising takes place in remote areas but we do also visit island communities. Depending on Scottish Government guidance at the time of your cruise, we may decide to avoid anchorages to visit communities.  If guests wish to do some shopping, this may simply require the wearing of masks and social distancing as normal, if this is the government guidance at the time.
We are confident that Sail Scotland will be in agreement with the safety measures we have put in place and look forward to welcoming guests once more.
Postal Address
Hebrides Cruises Craigard Connel Oban, PA37 1PT